Exclusive Free Toaster with Purchase
Collect all three cute toaster with purchase just for you at Guardian Malaysia from 26th November to 26th December 2021.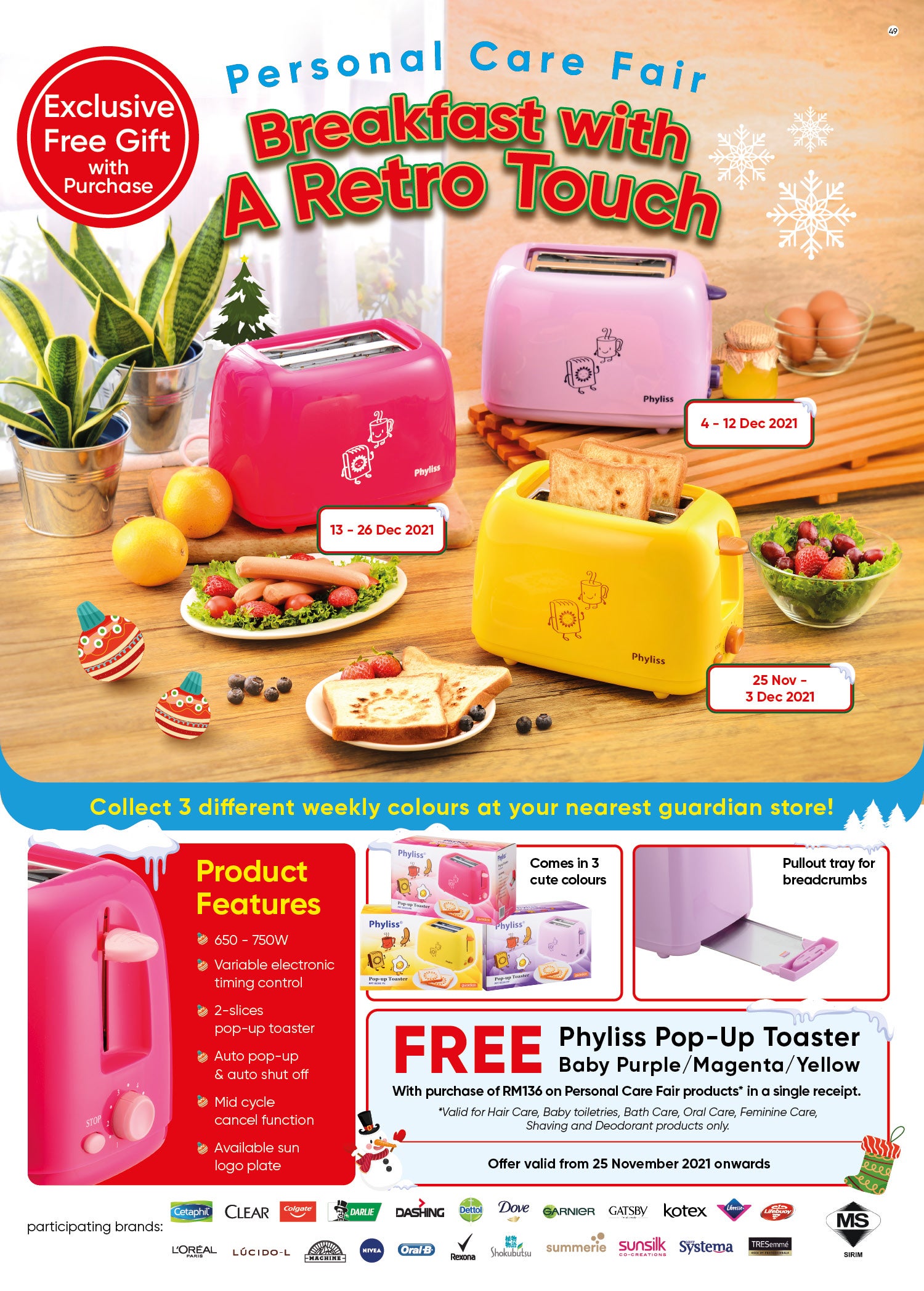 Get FREE Phyliss Pop-Up Toaster with Purchase of RM136 on Personal Care Products* in single receipt! 🎉 *𝘝𝘢𝘭𝘪𝘥 𝘧𝘰𝘳 𝘏𝘢𝘪𝘳 𝘊𝘢𝘳𝘦, 𝘉𝘢𝘣𝘺 𝘛𝘰𝘪𝘭𝘦𝘵𝘳𝘪𝘦𝘴, 𝘉𝘢𝘵𝘩 𝘊𝘢𝘳𝘦, 𝘖𝘳𝘢𝘭 𝘊𝘢𝘳𝘦, 𝘍𝘦𝘮𝘪𝘯𝘪𝘯𝘦 𝘊𝘢𝘳𝘦, 𝘚𝘩𝘢𝘷𝘪𝘯𝘨 & 𝘋𝘦𝘰𝘥𝘰𝘳𝘢𝘯𝘵 𝘱𝘳𝘰𝘥𝘶𝘤𝘵𝘴 𝘰𝘯𝘭𝘺.
Get your favourite colour when you spend on the respective week!
💛 𝟮𝟱 𝗡𝗼𝘃 - 𝟯 𝗗𝗲𝗰 : 𝒀𝑬𝑳𝑳𝑶𝑾 Phyliss Pop-Up Toaster
💜 𝟰 𝗗𝗲𝗰 - 𝟭𝟮 𝗗𝗲𝗰 : 𝑩𝑨𝑩𝒀 𝑷𝑼𝑹𝑷𝑳𝑬 Phyliss Pop-Up Toaster
💖 𝟭𝟯 𝗗𝗲𝗰 - 𝟮𝟲 𝗗𝗲𝗰 : 𝑴𝑨𝑮𝑬𝑵𝑻𝑨 Phyliss Pop-Up Toaster
🛍️Collect ALL 3 & Bring it home today! 🏠