Like to Unlock SR Vouchers Campaign
Unlock exclusive vouchers for Secret Recipe mobile app by liking and hitting milestones on SR's Facebook post.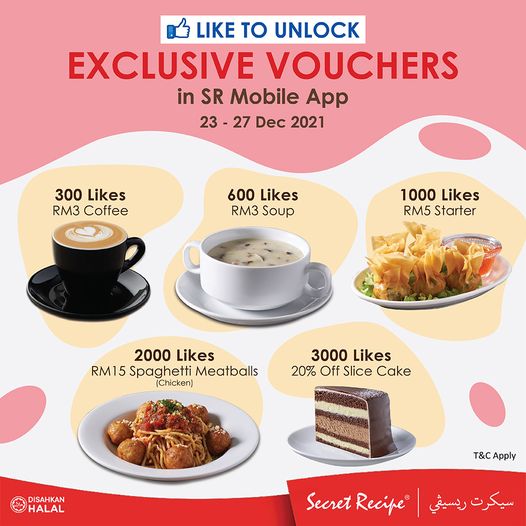 More likes, more rewards 👍! Grab your friends and family to give Secret Recipe's Facebook post a like and they will unlock more vouchers for you 😜
Tell everyone and don't miss out on any of these vouchers!
Offer is valid from 23rd Dec – 27th Dec 2021! Keep looking out in the comments to be updated on which reward is unlocked!
Unlocked vouchers:
We made it! 📣Get your unlocked voucher codes here! 📣
RM3 Coffee Voucher Code: 𝗥𝗠𝟯𝗗𝗥𝗜𝗡𝗞
RM3 Soup Voucher Code: 𝗦𝗘𝗖𝗥𝗘𝗧𝗦𝗢𝗨𝗣
RM5 Starter Voucher Code: 𝗦𝗧𝗔𝗥𝗧𝗘𝗥𝗥𝗘𝗖𝗜𝗣𝗘
RM15 Chicken Spaghetti Meatballs Voucher Code: 𝗥𝗠𝟭𝟱𝗠𝗘𝗔𝗧𝗕𝗔𝗟𝗟
20% Off Slice Cake Voucher Code: 𝟮𝟬𝗖𝗔𝗞𝗘
𝗛𝗲𝗿𝗲'𝘀 𝗵𝗼𝘄 𝘁𝗼 𝗿𝗲𝗱𝗲𝗲𝗺 𝘁𝗵𝗲𝘀𝗲 𝗰𝗼𝗱𝗲𝘀:
1) Download our SR App and sign up for an account here https://bit.ly/SR_MobileApp
2) Tap on "Rewards" section
3) Tap to "Redeem Rewards" section and insert your promo code!