Sampel Percuma Nestlé LACTOGROW®
Dapatkan Pek Percubaan Percuma Nestlé LACTOGROW® 3 anda sekarang! Get your free LACTOGROW® 3 Trial Pack now!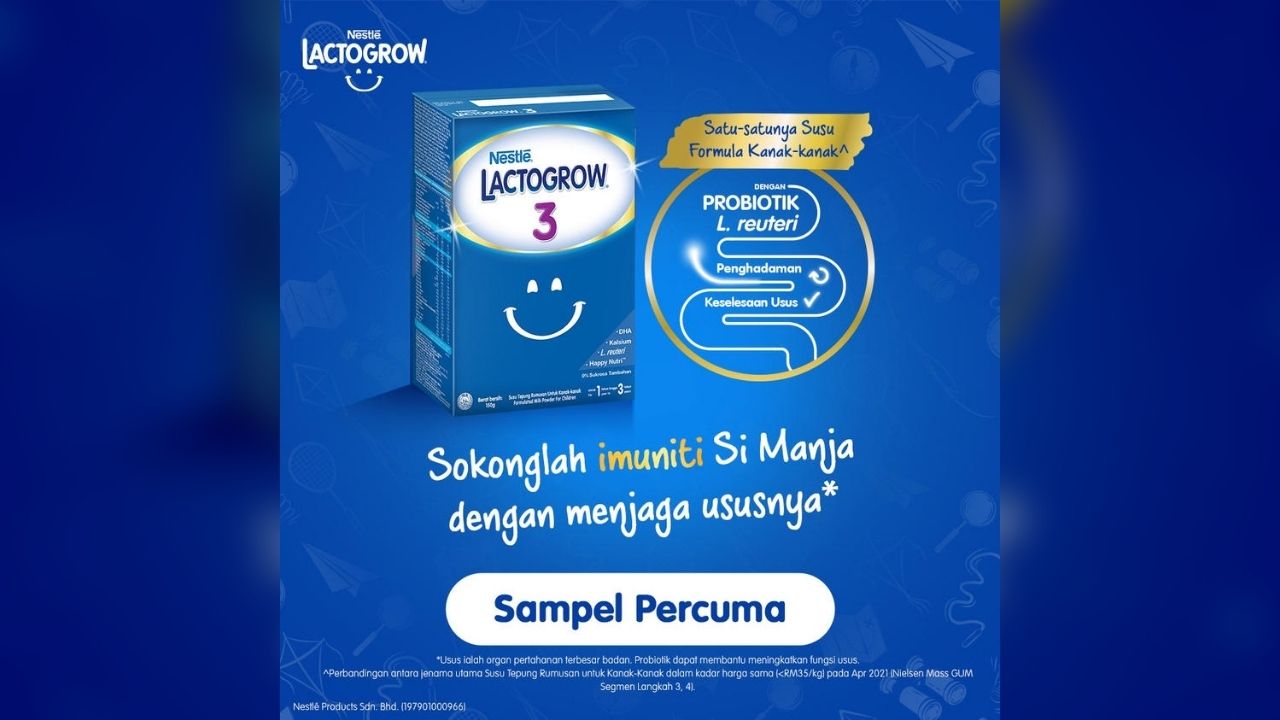 Cubalah berikan Si Manja anda NESTLÉ LACTOGROW® dengan Probiotik L. reuteri untuk menyokong fungsi penghadamannya. Ini kerana, dengan menjaga usus Si Manja, ia juga membantu menyokong imuniti mereka.
LACTOGROW® 3 dirumus secara saintifik dengan kebaikan kultur probiotik, L. reuteri DSM 17938 untuk membantu meningkatkan fungsi dan keselesaan sistem penghadaman kanak-kanak. Persekitaran usus yang baik adalah penting untuk penyerapan nutrien yang optimum.
Digabungkan bersama DHA yang ditemui dengan banyak di dalam otak. Kalsium penting untuk pertumbuhan tulang dan gigi yang kuat serta HappyNutri™ , iaitu 15 vitamin dan mineral untuk menyokong tumbesaran dan perkembangan optimum.
__________________
LACTOGROW® is scientifically formulated with probiotic cultures, L. reuteri DSM 17938 to strengthen the digestive system - a healthy gut is important to help your Little One absorb more nutrients.
Combined with DHA which is found abundantly in the brain. Calcium helps produce strong bones and teeth, while HappyNutri™ consists of 15 vitamins and minerals to support optimum growth and development.
Get your free samples today!