Watsons Spend & Win Contest
Spend a minimum of RM60 at Watsons Store or online to stand a chance to win from prizes worth up to RM388,888! To double your entry, just pay with Touch 'n Go eWallet!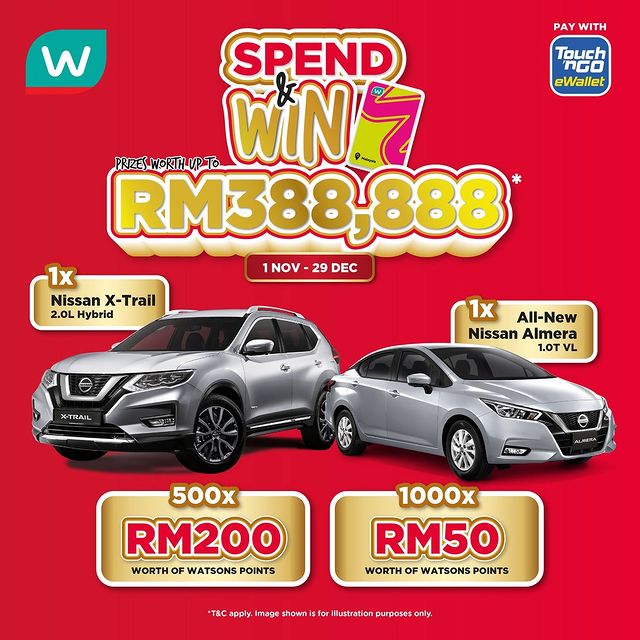 [CONTEST | SPEND & WIN]
Are you feeling lucky #KakiWatsons?🤞🏻 Because, here comes the 🌹 SPEND & WIN Contest 🌹 Simply spend a minimum of RM60 at both #WatsonsMalaysia STORES and ONLINE to participate in this contest (1x Entry) or PAY with TnG e-Wallet, you're entitled to get (2x entry)!🎉 So, why wait? Jom start shopping today!
⭐️ Spend & Win with total prizes worth up to RM388,888 with Touch n' Go eWallet!* 👉 https://bit.ly/WinACarContest
⭐️ RM5 CASHBACK with Touch n' Go eWallet with min spend RM60!* 👉 https://bit.ly/tngRM5
𝐅𝐨𝐥𝐥𝐨𝐰 𝐨𝐮𝐫 𝐓𝐄𝐋𝐄𝐆𝐑𝐀𝐌 𝐟𝐨𝐫 𝐦𝐨𝐫𝐞 𝐏𝐑𝐎𝐌𝐎𝐓𝐈𝐎𝐍𝐀𝐋 𝐔𝐏𝐃𝐀𝐓𝐄𝐒! 👉 https://t.me/watsonsmalaysia